ABOUT US

Now into its 23rd edition, the INTERTANKO Annual Tanker Event is recognised as THE event for tanker-related matters.
This year's event will be held from 20-24 May 2019 at the W Sentosa in Singapore, and promises to be every bit as informative and productive as the 2018 event in Rome.
Each INTERTANKO full Member Company will receive two complimentary full event passes per membership – use Coupon Code 19ATEMEM when registering.
Each INTERTANKO Associate Member Company will receive one complimentary full event pass per membership - use Coupon Code 19ATEASSOC when registering.
Schedule of events
Monday 20 May
Executive Committee Dinner (Evening – Executive Committee only)
Tuesday 21 May
Executive Committee Meeting (Executive Committee only)
Council Dinner
(Evening – Council members, Committee / Panel chairmen, partners and invited guests only)
Wednesday 22 May
Council meeting
(AM – Council members, Committee / Panel chairmen and invited guests only)
Annual General Meeting
(PM – All Members and Associate Members)
Annual Gala Dinner
(Evening – All registered participants)
Thursday 23 May
Tanker Summit:
Risks and Opportunities in Tanker Shipping: China, Finance and the Evolving Tanker Business Model (All registered participants)
Click here to view the Tanker Summit programme
Social Dinner (Evening – All registered participants)
Friday 24 May

Tanker Forum:
Managing the Risks: Environmental, Technical and Marine Risk Assessment Challenges (All registered participants)
Click here to view the Tanker Forum programme
For more details on sponsorship opportunities, please contact Joyce Teng at This email address is being protected from spambots. You need JavaScript enabled to view it..
Please note that registration is required for all sessions in the Schedule.
Click here to register for this year's Annual Tanker Event.
For participants requiring guest rooms, INTERTANKO has negotiated preferential rates with the W Sentosa. Please use the following link to make a reservation:
https://www.marriott.com/event-reservations/reservation-link.mi?id=1546930435330&key=GRP&app=resvlink
All guest room reservations should be made directly with the hotel. Guest rooms at the hotel are limited and subject to availability.
Contact: This email address is being protected from spambots. You need JavaScript enabled to view it. or This email address is being protected from spambots. You need JavaScript enabled to view it.
The Secretariat recently received a number of reports from Members relating to uncharted terminals in China ports following a request from INTERTANKO for feedback. The issue of uncharted terminals was also discussed at the recent Asian Regional Panel meeting held on 12 April 2019.
Below are the reported cases of terminals and berths not marked on China navigational charts: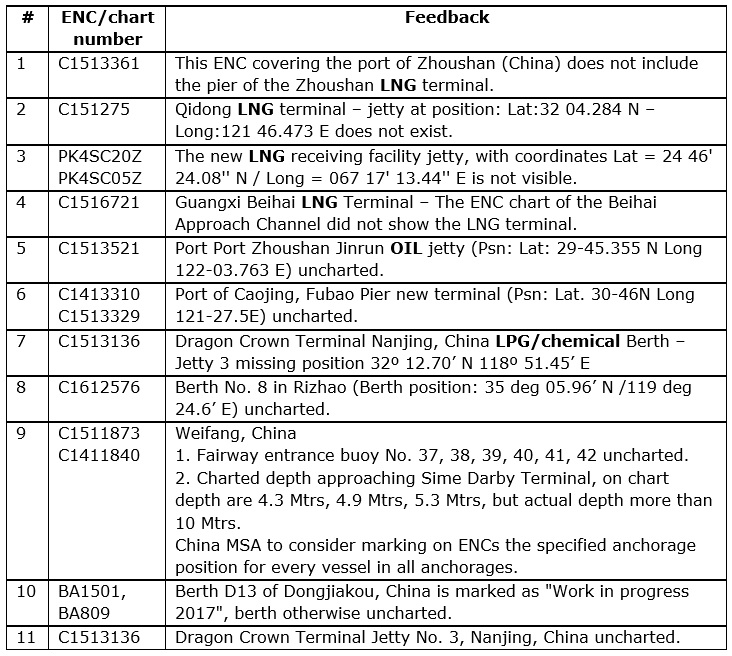 INTERTANKO views this with great concern as hydrographic inaccuracies and the non-marking of existing terminals on charts pose serious navigational risks and prevent ship Masters from carrying out proper passage planning and risk assessment.
The Secretariat sent a formal letter to the China MSA on 5 April 2019 noting our concerns regarding the non-markings as well as concern over China's policy on the non-marking of sensitive structures such as gas terminals on China hydrographic charts.
The Secretariat has appealed to China MSA to assist by investigating the feedback received and advising on what follow-up actions are to be taken with regard to updating the navigational charts as well as more timely marking of new terminals, including gas terminals, on charts going forward.
The Secretariat will keep Members updated on the responses received from China MSA. In the meantime, Members should take note of the list of reported cases. Any further feedback can be sent to the Secretariat in Singapore at This email address is being protected from spambots. You need JavaScript enabled to view it.. This issue is also being followed closely by INTERTANKO's Nautical Sub Committee and the Gas Tanker Committee.
Contact: This email address is being protected from spambots. You need JavaScript enabled to view it. or This email address is being protected from spambots. You need JavaScript enabled to view it.
The IOPC Fund meetings took place on 1-2 April 2019. The substantive meeting has been reduced to just one day given the limited number of claims for consideration. Of concern however was the report made on the PRESTIGE. We have reported on the developments in this case many times as it has progressed in particular through the Spanish civil and criminal courts. The facts are therefore familiar, including the unreasonable treatment of Capt Mangouras who remains a 'criminal' according to Spanish law.
The compensation amount available for the PRESTIGE under the CLC and Fund Conventions is €171.5 million. Of this amount some €120.7 million has already been paid to victims; a further €28 million remains available from the 1992 Fund and €22.8 million is available as deposited in court by the London P & I.
In January 2016, the Spanish Supreme Court delivered a judgement finding that the master of the PRESTIGE was criminally liable for damages to the environment, with civil liability. The judgement also found that the shipowner had civil liability and was not entitled to limit its liability and that its insurer, the London P&I Club, had civil liability up to the limit of its policy of USD 1 000 million. In the judgement, the 1992 Fund was found to have civil liability within the limit provided for by the 1992 Fund Convention.
In December 2018 the Spanish Supreme Court delivered its judgement on the quantification of the losses. The total amount awarded, after the amendments, is €1 439.08 million (losses €884.98 million + pure environmental and moral damages €554.10 million). The judgement also awards interest to be quantified. It also confirms that moral and pure environmental damages are not recoverable from the 1992 Fund. They are however recoverable from the London P & I Club which is held liable for all damages caused by the incident including moral and pure environmental damages, up to the limit of its policy of USD 1 000 million.
The Spanish Court in charge of enforcement of the judgement issued a decree in February 2019 ordering the master, owner and London P & I to pay the amounts awarded by the Supreme Court plus a 30% uplift for interest and costs, with the London P & I liability capped at USD 1 000 million including the limitation fund. The 1992 Fund is ordered to pay the €28 million limit of its liability.
The 1992 Fund will pay its limit, subject to some considerations on equal treatment and the continuation of other proceedings elsewhere. However the judgement sets a dangerous precedent with regard to the master, owner and P & I Club. The IOPC Fund Director raised concerns at the meeting regarding the rationale of the judgement that orders compensation for pure environmental losses and moral damages, applying domestic laws instead of the Conventions as a way to circumvent the Conventions.
INTERTANKO shares the IOPC Fund Director's concerns. The Insurance and Legal Committee will engage in discussions to see if there is any way in which INTERTANKO may assist the London P & I Club in the event that the Spanish Court seeks to enforce the judgement, given the precedent this may set and the impact this will have on P & I insurance/operation of the pollution compensation regime. This issue is also of relevance to the new work item on 'Unified Interpretation on the test for breaking the owner's right to limit liability under the IMO conventions' which will be considered at IMO LEG 107 (see above).
Contact: This email address is being protected from spambots. You need JavaScript enabled to view it.
The 106th IMO Legal Committee took place between 27-29 March 2019 under the chairmanship of Mr Volker Schofisch of Germany. The meeting was attended by INTERTANKO's General Counsel, Michele White. The following items are of note to Members.
HNS Protocol
The 2010 HNS Protocol remains the only gap in the global framework of liability and compensation conventions. The 2010 HNS Protocol will come into force 18 months after accession by 12 States, provided that four of the States have ships with a total tonnage of at least 2 million GT, and in the previous year there has been at least 40 million tonnes of cargo received in those States. To date only four States have become Contracting States to the HNS Protocol – Canada, Norway, Turkey and Denmark. Despite reaching the requisite tonnage requirement (two million gt) eight more States must ratify or accede to it for it to enter into force. A number of workshops have been held in recent years, led by Canada, with the aim of raising awareness and overcoming any obstacles to ratification and the administrative structure is in place ready for the entry into force. A handful of States indicated at the meeting that they were taking steps towards ratification. However, progress remains slow.
At the meeting, views were expressed that HNS incidents did occur – namely the Sanchi, Aulac Fortune, MSC Zoe and Grande American, albeit statistics on which of these would fall to any HNS Fund were not easy to obtain. The IG P & I were invited to provide an update on statistics.
INTERTANKO continues to support the entry into force of the HNS Protocol.
Fraudulent registration of ships
This item was added to the Legal Committee Agenda at its 105th meeting in 2018.
A number of States have reported to IMO LEG 105 and 106 incidents of fraudulent registration and registries where there is unauthorised use of a country's flag and/or a registry is set up without the knowledge of the flag State which then purports to be the 'official' registration body for that flag State. Some countries have now closed their own registries as a result. This fraudulent practice concerns both fishing vessels and some merchant vessels.
A Working Group was set up to consider proposals for the dissemination of information about these cases and other preventative measures. This includes for example amendments to the Global Integrated Shipping Information System run by IMO (GISIS); an easily searchable database in conjunction with the UN Security Council; a 'Register of Registries'; an Assembly resolution on 'Measures to prevent the fraudulent registration and fraudulent registries of ships' and recommended best practices.
Whilst this is not commonplace among the tanker trades, Members need to be aware of this as fraudsters become increasingly sophisticated. Any Member who has been affected by this and/or is unsure about the legitimacy of a registry is asked to contact the Secretariat.
INTERTANKO will continue to monitor this issue as necessary.
Maritime Autonomous Surface Ships (MASS)
The second new work item added at LEG 105 in 2018 concerns autonomous ships. This item will involve a regulatory scoping exercise and gap analysis with respect to Maritime Autonomous Surface Ships. This is to ensure that the legal landscape keeps abreast of new technologies for ships. This work will be done in conjunction with the IMO Maritime Safety Committee (MSC) who are already considering the technical aspects of unmanned ships and will co-ordinate.
This group identified the list of Conventions to be included in the scoping exercise; a framework, methodology and plan of work and procedures to carry this out. The Working Group identified degrees of autonomy which may be of general interest to Members as follows:
Degree one:
Ship with automated processes and decision support: Seafarers are on board to operate and control shipboard systems and functions. Some operations may be automated and at times be unsupervised but with seafarers on board ready to take control.
Degree two:
Remotely controlled ship with seafarers on board: The ship is controlled and operated from another location. Seafarers are available on board to take control and to operate the shipboard systems and functions.
Degree three:
Remotely controlled ship without seafarers on board: The ship is controlled and operated from another location. There are no seafarers on board.
Degree four:
Fully autonomous ship: The operating system of the ship is able to make decisions and determine actions by itself.
This is purely a legal assessment which will be monitored by INTERTANKO. Developments at MSC will also be monitored by the Marine Team who will engage as appropriate.
Limitation if Liability
A further new work item was suggested and adopted by LEG 106 concerning limitation of liability. This is of great concern as there are increasingly inroads being made by national court rulings on the proper functioning not just of the pollution compensation regime but also on other areas where owners should benefit from limitation rights e.g. under the Convention on Limitation of Liability for Maritime Claims 1996. A new work item will be added to LEG 107 concerning the 'Unified Interpretation on the test for breaking the owner's right to limit liability under the IMO conventions'.
This item falls squarely within the remit of INTERTANKO's Insurance and Legal Committee where it has been discussed a number of times. This Committee will be considering ways to contribute to this agenda item and to demonstrate the importance of limitation for the proper functioning of the marine insurance models.
Contact: This email address is being protected from spambots. You need JavaScript enabled to view it.
INTERTANKO's Insurance and Legal Committee met in London last week under the chairmanship of Andreas Andreaou of Columbia Shipmanagement. This was a timely meeting giving the Committee the opportunity to discuss the issues that have emerged from both IMO LEG 106 and the IOPC Funds meetings, in particular those that refer to threats to limitation of liability.
Also on the Committee's Agenda were:
Cyber Risk/Digitization
Hull and Machinery insurance (including market consolidation)
P & I Issues
War Risk/Piracy
Terminal Conditions of Use
Sanctions
Bunker 2020 issues for insurers
Anti-corruption issues
Piracy
GDPR
This is a very full Agenda for a small Committee and contains some items that are gaining momentum. We therefore invite any Members who would be interested in participating in these discussions to contact the Committee Secretary (This email address is being protected from spambots. You need JavaScript enabled to view it.).
We would also be pleased to hear from any Associate Members who may contribute to the dialogue on these, and any other insurance and legal aspects that affect the INTERTANKO Membership. The next meeting is planned for October 2019.
Contact: This email address is being protected from spambots. You need JavaScript enabled to view it.
Forum
for Members to meet and share information and best practice with each other and the wider industry
Advisor
for Members providing guidance on issues affecting their operations and interests
Champion
that speaks on behalf of and acts for independent tanker owners
INTERTANKO Key Messages
INTERTANKO Key Messages
Sustainability of the industry
There is deep concern that the current tanker market rates are consistently below operating costs. This could threaten the sustainability, even the very survivability, of the oil transportation industry.
This situation, where tanker owners are not even covering their operating costs, cannot be sustained in the longer term. Standards must be maintained at the highest levels in order to operate in today's demanding markets, but in continuing to do that, some operators may hit a financial wall.
Greenhouse gases (GHG)
Energy Efficiency Design Index (EEDI) requirements should apply equally to all new ships on the same applicable effective date. Compliance with EEDI should focus on improved hull design, propulsion efficiency and energy optimisation.
INTERTANKO believes that a market-based mechanism (MBM) is not justified at this time. If an MBM should be required, of the current MBM proposals, the GHG Fund seems to be the simplest and most transparent from a shipowner's point of view.
Piracy
Best Management Practices (BMP4)
It is crucial that ship operators follow the three main elements of BMP4 for ships going through the Gulf of Aden and Indian Ocean: register with the Maritime Security Centre – Horn of Africa (MSCHOA); report to the UK Maritime Trade Organisation (UKMTO); and employ the appropriate self-protection measures.
Armed guards
It is the responsibility of the international navies to ensure the right of free passage on the high seas including the use of vessel protection detachments (VPDs) on merchant ships.
INTERTANKO does not advocate the arming of ships' crews.
The use of private armed guards or government armed security forces onboard merchant ships has to be a matter for each individual owner or manager to assess as part of their voyage risk assessment.
If armed guards are to be used, the Flag State should be consulted to determine the conditions for authorisation and the IMO guidelines for shipowners contained in MSC.1/Circ.1405 and for Flag States contained in MSC.1/Circ.1406 should be taken into account.
Citadels
The decision to deploy a citadel, or not, should take into account all known factors and be based on risk assessment.
If a citadel is to be employed, the industry guidance on the use of citadels should be taken into account. This guidance is available on the MSCHOA website.
Message from the Chairman
INTERTANKO's Council of Members elected Paolo d'Amico, Managing Director of d'Amico Societá di Navigazione SpA, as new Chairman of the Association on 7 November 2018 at the IMO Headquarters in London.
Mr d'Amico had been a member of Council since 1996 and Vice Chairman since 2012.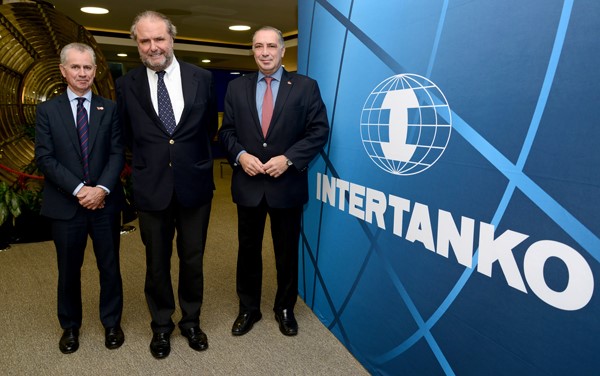 INTERTANKO Chairman Paolo d'Amico (centre) poses with his predecessors Dr. Nikolas Tsakos (right) and Graham Westgarth (left)
Following his appointment, d'Amico said he looked forward to leading INTERTANKO "as it continues to advance the interests of its Members in the various legislatorial arenas, not least as we move towards the next big ticket item in the shape of the 2020 Sulphur Cap."
He added:
"I am honoured to take over the helm at a time when the Association's role in today's challenging environment is more prominent than ever. Commercial sustainability of the tanker industry will remain high on our agenda, as will a continued push for operational excellence and environmental protection."
"INTERTANKO and I will continue to work tirelessly in the technical, operational, regulatory and commercial arenas in which we practise; reiterating our shared goals of 'leading the way and making a difference'.
Welcome from the Managing Director
Your INTERTANKO - welcome from the Managing Director
INTERTANKO has been the voice of independent tanker owners since 1970, championing an industry dedicated to support global energy networks by delivering safe, efficient and environmentally sound transport services.
Throughout its history, the Association has continuously adapted to the needs and demands of its Members, seeking to add value to their operations and act as a conduit for information exchange and the development of policy and best practice.
Much of the work continues to be focussed on addressing the significant regulatory challenges Owners are grappling with. From ballast water treatment to fuel oil sulphur levels and greenhouse gas related climate change, the number of critically important and highly complex environmental issues continues to grow.
Equally importantly, crucial performance, safety and human element-related work is being pushed forward to advance best practice for the tanker sector; and on the commercially focussed side, issues surrounding the legal, documentary and insurance aspects of Members' operations are being addressed.
INTERTANKO, through its many specialised Committees, Panels and events, is in the enviable position of being able to engender real peer-to-peer dialogue and develop proposed solutions that have been assisting Owners and other stakeholders to better manage their parts of our industry.
Without your input and active engagement this would not be possible.

Katharina Stanzel
INTERTANKO Managing Director
Your services - Forum Provider, Advisor, Champion
Forum Provider
INTERTANKO organises a wide range of events and opportunities for engagement and exchange throughout the year.
The Annual Tanker Event, where the latest issues affecting the industry are debated by tanker owners and leading decision makers, is widely regarded as the key industry gathering for high-level networking and dialogue.
Seminars and workshops provide Members with further opportunities for peer-to-peer exchange. Given the dynamic nature of the tanker shipping industry and the pressures of working realities, every effort is made to ensure that the right issues are discussed by the right people, at the right time and in a convenient place.
The Association also holds twice-yearly meetings for its five Regional Panels in Asia, Europe, North as well as Latin America and the Mediterranean region. These Panels provide the wider Membership with the opportunity to get updated on key issues, discuss items from a regional perspective and contribute to the development fof the Association's policies on issues that are on the Agenda for the Council, the Association's elected policy-setting body.
Subject matter experts from Member and Associate Member companies participate in specialist working Committees and Sub-Committees to discuss and formulate policies and best practices which help shape the tanker industry. Supported by designated members of the Secretariat, these Committees support all the work that is carried out by the Association and which is put forward before the Council for development of policy.
Advisor
A crucial role for the Association is to leverage the formidable experience and expertise of Members and Associate Members in the diverse specific areas of tanker ownership and operations.
INTERTANKO can be distinguished from other Associations through its experienced Secretariat staff and their professional networks, which gives it an unrivalled resource of specialist tanker knowledge, connections and relationships and keeps it ahead of the changes and challenges that are continuously being introduced by regulators and other stakeholders.
INTERTANKO Members and Associate Members rely on expert advice from the Association on anything from international regulations to charterparty questions, operational issues to best practice guidance.
Where necessary, the Secretariat channel requests for assistance to the specialists outside the Association to obtain the best informed views and advice. Members and Associate Members also have access to direct expert opinion from experienced lawyers, mariners, naval architects, marine engineers, economists and other specialists who are working with, or known to, INTERTANKO.
INTERTANKO offers:
guidance on regulations and their application to new and existing ships
advice on implementing best industry practice, from cadet recruitment to environmental benchmarking or piracy protection
advice on cargo-related matters
assistance with observations from ship inspections
assistance when ships encounter problems with terminal operators or port authorities generating delays
assistance when ships are detained by ports state control authorities - minimising the effect of a detention or assisting in proving the case for removal of the detention.
Added-value, proprietary information and benchmarking tools are available exclusively to Members to support their day-to-day operations and requirements.
INTERTANKO commissions specific research and analysis to support issues of concern to Members for use at the International Maritime Organization (IMO), with national authorities or other organisations.
Free workshops and seminars on issues of interest to Members are also an integral part of the Association's information services and these are organised throughout the year in shipping hubs around the world.
INTERTANKO Publications have long established their value in the shipping community and are held in high esteem throughout the industry.
Members and Associate Members are entitled to a 50% discount off the price of all INTERTANKO titles.
Champion
INTERTANKO and its Secretariat strive to build and maintain strong working relationships with legislators and other key stakeholders, with the trust and respect that this requires.
The primary aim is to ensure that Members' concerns are heard, supported by business and operational logic and acted upon during the development of regulations for all aspects of tanker design, construction, operation and decommissioning of ships and equipment.
The Association's aim is to ensure fair outcomes for all parties, based on common sense and on what is workable in practice.
INTERTANKO's advocacy is founded on the values and high quality reputation of its Members. The Association is committed to finding practical working solutions that ensure maximum safety and efficiency for the tanker industry for day-to-day operational challenges,
Specialists within the Secretariat manage a wide-ranging work programme of strategic issues in order to support Members' performance with focus on five main areas: Safety, Human Elelment, Environment, Operations and Sustainability.