Organisation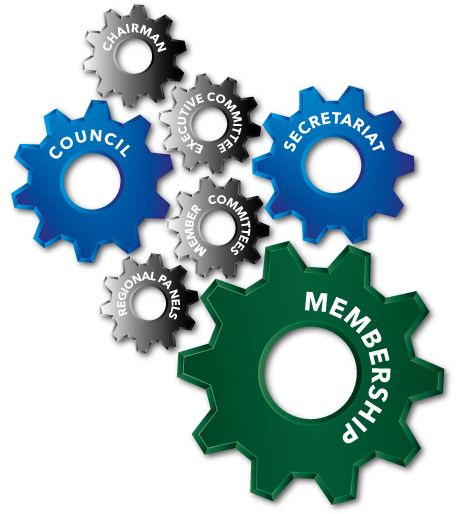 INTERTANKO is a Member-run, direct entry organisation that works hard to ensure the voices of its Members are heard. It represents the interests of Members at national, regional and international levels, guided by the people and groups listed below.
The Chairman is a member of INTERTANKO's Council and elected by Members for a two-year period. He is the figurehead of independent tankers owners, representing INTERTANKO's Membership at the highest level; he also chairs meetings of the Council, the Executive and Management Committees.
Our Council of Members is the Association's main governing body. The Council's role is to set and agree policy, to elect members of the Executive Committee and to determine annual Membership fees. Input from the council also helps to shape INTERTANKO's Strategic Workplan. The Council meets twice each year.
The five Regional Panels ensure that important regional issues and perspectives are captured and brought to bear in the Association's work, in order to inform and enrich INTERTANKO's global view of key industry issues. Most regional panels meet twice yearly under an elected chairperson supported by a member of the Secretariat who also serves as a regional manager and first contact for Members.
The Executive Committee guides the Secretariat in the implementation of directions given by Council. It also assists the Managing Director and Secretariat in conducting the Association's affairs. The ExCom meets three times each year.
The Secretariat is made up of industry professionals and support staff with complementary skills and experience, dedicated to assist Members and organise Association activities. With representation in London, Oslo, Singapore, Washington and Athens, the Secretariat manages and coordinates the workings of 14 technical and three governance committees, as well as five regional panels.
Through the Committees, INTERTANKO harnesses the collective knowledge and expertise of its Membership in order to best provide information, advice and representation across key issues.
INTERTANKO's Committees and Sub-Committees meet on a regular basis to harness the collective knowledge of the Membership and address issues of importance to Members. The Committees help to promote Members' interests with governmental and non-governmental bodies and other stakeholders including environmental groups and the general public. Each Committee works to specific terms of reference, vetted and approved by Council and meets twice yearly under an elected chair person, supported by the Secretariat.